The Prunepicker Combo!
"Prune Picker"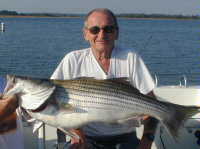 There are times I use a 1.5 ounce Prune Picker and there are times I use a 2.0 Prune Picker. There are times I use a foil, there are times I don't use foil. There are times I use a glow and a time I don't use a glow.........

Now you can order one combo pack to cover all these options. There are six (6) 1.5 ounce and six (6) 2.0 ounce Prune Pickers in this combo. A few plain, a few with foil, a few that glow, and a few of my favorite scale Pickers. You can't go wrong with this package.

BUY ONE FOR YOURSELF AND ONE FOR A BUDDY! WIFE RETIRED! I NEED THE MONEY AS SHE'S SHOPPING MORE!!!

BUY NOW !!! IT'S ALWAYS SLABBING SEASON!!

NOW ACCEPTING CREDIT CARDS!! JUST PAY UP AS A GUEST AND THE MONEY GETS TO MY ACCOUNT. AIN'T TECHNOLOGY GRAND??!!


This is what ReAxtion Lures PP Slabs do!!